Friday, April 6, 2018 at 6.00 at St. Mark's Parish Hall, Berkeley
KATHERINE HEATER, harpsichord and MAIA SILBERSTEIN, violin
BACH SONATAS FOR VIOLIN AND HARPSICHORD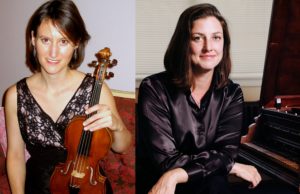 Bach sonatas for violin and harpsichord played by local favorite Katherine Heater and locally raised but forrin-based Maia Silberstein, what more could anyone want?     These two have been playing together for decades on various continents, and it shows.  The music needs no introduction, masterpieces by the master.
All in the perfect wooden acoustic of St. Mark's Parish Hall.  Stop by and start the weekend perfectly!
The usual snax, of course.
Friday, April 6, 2018, 6.00 pm
St. Mark's Episcopal Church Parish Hall,
2300 Bancroft Way, Berkeley 94704
All tickets $15
18 and under admitted free and welcome.
Tickets at the door or reserve online (recommended) at
http://www.brownpapertickets.com/event/3055826