Friday November 16, 2012, at 6 pm

Telemann went to Paris for a year in 1737.  It's a tough life for some.  To ingratiate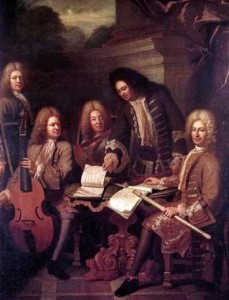 himself with the local elite (those guys on the right and their pals with money), he wrote a set of 6 "Nouveaux Quattuors", which they (Blavet, Guignon, J-B Forqueray, Eduardo and an unidentified harpsichordist) played in public to huge critical acclaim.  Then Telemann published them,  so we can still play them today, and thank goodness we don't have to wear all that stuff, either.
Two of  Telemann's "Quattuors" bookend this program, which will also feature a lovely suite by Boismortier for flute and violin and music by Marais.   It's all very elegant, a combination of Telemann's eclectic compositional language, and Parisian flair.  Quartets are unusual in the Baroque repertoire, so it's a unique event all round.
Playing the parts of Mssrs.  Blavet et al., will be local luminaries Janet See, flute; Carla Moore, violin; Peter Hallifax, viol; and Katherine Heater, harpsichord (see below).  As we said,  no wigs, no frock coats, but it all makes the playing easier.
St. Mark's Episcopal Church, Parish Hall
2300 Bancroft Way, Berkeley
6 pm
$15 at the door (students, seniors and SFEMS members $13)
18 and under admitted free
$3 discount for online orders
To order tickets, go to www.BrownPaperTickets.com/event/282746